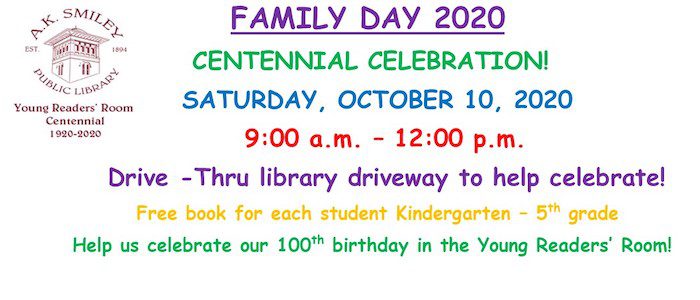 Looking for a fun socially distant family activity? AK Smiley Public Library in Redlands will celebrate the 100th anniversary of the founding of their Young Readers' Room with a special drive-through Family Day event on Saturday, October 10 from 9 AM to 12 PM. Families are invited to drive-through and stop at six different stations by entering into the library driveway via westbound Vine Street. The first 200 families will receive a variety of gifts including a free hardback children's book, a bag of school supplies courtesy of the Contemporary Club, a centennial anniversary craft item, grade appropriate paperback books and finally a big wrapped Stater Bros sugar cookie. All without having to leave your car!
Cars will exit via Eureka Street which will be blocked at Brookside Avenue to facilitate traffic flow. Participants are directed to approach via Cajon Street and then turn onto westbound Vine Street.  A map of the route can be found here.
You can also enjoy Family Day virtually! Explore virtual reading and crafts.