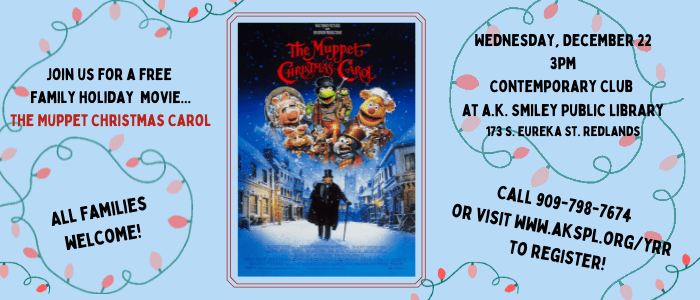 What could be more magical than a matinee featuring Kermit, Gonzo, AND Ebenezer Scrooge? Join us for a free screening of The Muppet Christmas Carol…the whole family is invited!
The Muppet Christmas Carol Movie
Wednesday, December 22, 2021
3 p.m.
The Contemporary Club at A.K. Smiley Public Library
173 S. Eureka St. Redlands (located just to the south of the Library across Smiley Park)
All individuals over age 2, regardless of vaccination status, are required to wear a face covering per the Governor's Order. Parents/caregivers are required to stay with children throughout the movie. Thank you for helping us keep families safe!
Call 909-798-7674 or click here to register!