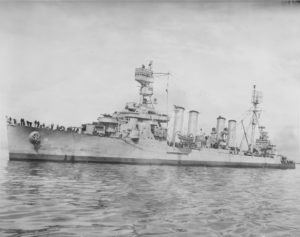 In honor of Memorial Day, A.K. Smiley Public Library welcomes Mark C. Radeleff on Tuesday, May 30 at 7pm in the Assembly Room to present "Four Sailors and the Battle of Makassar Strait, 1942." Focusing on Redlanders who served in the United States Navy during WWII, the program will examine their lives and military careers before, during, and after the war.
Telling the story of four boyhood friends who joined the navy to escape the Great Depression, the program will discuss the two ships on which they served, three on the light cruiser U.S.S. Marblehead and one on the destroyer U.S.S. Stewart, both of which served with the Asiatic Fleet. Together they fought against the Imperial Japanese Navy in the early stages of the war and sacrificed themselves in defense of the United States.
Mark Radeleff has been a volunteer researcher in the Division of Special Collections of A.K. Smiley Public for over twenty years. He conducts research on the documents and artifacts of the Division of Special Collections of A.K. Smiley Public Library to provide background of the who, what, why of the people they relate to. He is currently Treasurer of the Inland Empire Civil War Round Table. He is a retired U.S. Marine and Systems Engineer with a passion for history and the people who made it. Married for over 51 years, he has two granddaughters.
This event is free and open to the public. If you have any questions, please call (909)798-7565.