The children's collection of A.K. Smiley Public Library includes:
Books, periodicals, and audio materials for preschool through 8th grade.
Special programs and activities are held for children year round.
Reading Clubs are held throughout the year and feature special themes and rewards to young readers.
---
Story Times
Bring your little ones and enjoy storytelling from our wonderful group of readers!
Tuesday Afternoons in the Story Corner:
After-School Story Time: K – 5th graders welcome! ~ 3:00 – 3:30 p.m. (includes snack!)
Tuesday Evenings in the Story Corner:
Pajama Story Time:  all ages ~ 7:00 – 7:30 p.m.
Wednesday Mornings in The Contemporary Club:
Preschoolers: Ages 4-6 10:15 a.m. – 11:15 a.m. ~ story time + craft to take home
Wednesday Evenings in The Story Corner:
Chinese Story Time:  All ages welcome ~ 5:00 – 5:30 p.m. ~ in The Story Corner
Thursday Mornings in The Contemporary Club:
Baby Story Time  9:30 a.m. – 9:50 a.m.

Tiny Tots: Ages 2-3, 10:15 a.m. – 10:30 a.m.; 10:40 a.m. – 10:55 a.m.
Thursday Evenings in The Story Corner:
 Spanish Story Time 5:00 – 5:30 p.m. with Miss Maria
Saturday mornings in the Story Corner:
Spanish Story Time 10:00 – 10:30 a.m. (starting 10/19/19) With Mr. Aguirre
---
Fitness for Kids
           Every Thursday afternoon from 3:30 – 4:15 in The Contemporary Club
                      All ages welcome to attend this fast-paced, interactive class!
_________________________________________________________________________________
 

Special Event
Saturday, 11/02/2019
Dia de los MUERTOS Event
Join us in the park on Saturday morning, 11/02/2019, from 11:00 a.m. – 1:00 p.m. for fun, family activities.  Face Painting; sugar skull art; paper flowers and free food for all!
Beginning @ 12:00 p.m., make your way to the Contemporary Club to view all of the Community Altars inside.  Special programming begins @ 1:00 with Director McCue; Assistant Archivist Carrillo; Ballet Folklorico and closing remarks by Adult Services Librarian, Jennifer Downey.
 Open to all ages!
______________________________________________________________________________________________________________________________________
Therapy Dog friends Daisy, Feisty; Snowball & Lord Devereaux & Dominic
Come and read to our Therapy Dog friends in the Story Corner of the Young Readers' Room on the 3rd Sunday in October 20 @ 2:00; and 1st & 3rd Thursdays 10/3 & 10/17.
We look forward to having your kids read a great book to our friends!
---
---
Try some cool mapping at this website, created for the library by Esri:
http://smileylibrary.maps.arcgis.com/home/index.html
Have fun with it…where will be your first destination to look up?  Locally; in the state; country?  How about someplace in the world?!
---
Saturday Craft Day
October 19, 2019
"Little House on the Prairie"
Join us for a fun-filled morning of crafting, stamping and making new friends in the Assembly Room.  Join Miss Didi and her helpers as they help you make and create great crafts for you to take home.
---
16th Annual Family Day 2019
Saturday, October 12
9:00 a.m. – 1:00 p.m.
Special author/illustrator visit by Joe Cepeda
We will have lots of activities for families to participate in together such as an Author presentation and book signing in the Assembly Room;  refreshments for each guest include one cookie and cup of lemonade.  Joining us again this year to run some of the stations will be The Redlands Art Association, who will help kids create some amazing crafts, based on the book "Pumpkin Fiesta"; Boy Scout Troop 3 who will teach kids how to have a safe hike, based on the book "The Journey of Oliver K. Woodman"; Muffin Top Bakery who will help kids make some yummy fudge, based on the book "Peeny Butter Fudge"; IERCD will be here to help the families plant a seed to take home and watch it grow into something yummy to eat, based on the book "The Old Man and his Door".  RUSD will be here as well to feed every child (18 and under) a free lunch; based on the book "Mice and Beans".  The first 200 families to check-in will receive one free hard cover book!  There will be read-alouds in the Story Corner with the Mayor; Councilwoman Momberger; Archivist Gonzales; and some of our Volunteer Police Department.
We're looking forward to seeing everyone on Saturday, October 12!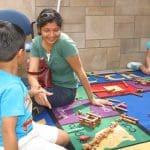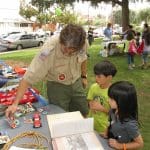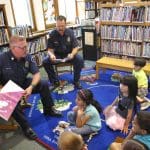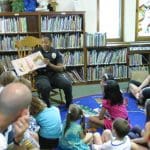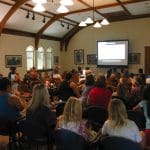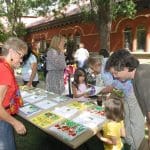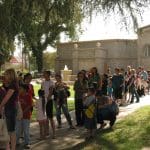 ---
For more information, call Children's Services at 798-7674
Visit us on Facebook.