The children's collection of A.K. Smiley Public Library includes:
Books, periodicals, and audio materials for preschool through 8th grade
Special programs and activities are held for children year round
Reading Clubs are held throughout the year and feature special themes and rewards to young readers
Although Young Readers' Room Story Times and Events have been postponed through August 31, 2020… 
 Please join us for Virtual Story Times and Poetry reading on FaceBook Live & Instagram TV…see schedule below…
---
Week 2 Challenge: Backyard Scavenger Hunt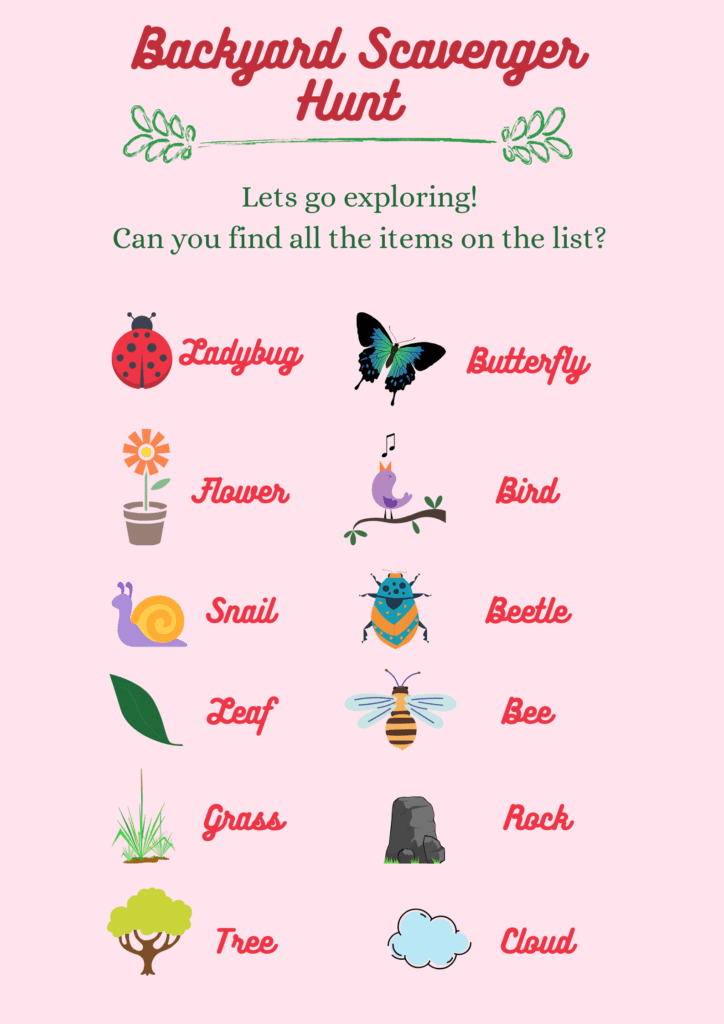 Did you ace last week's Backyard Scavenger Hunt? Excellent! Click the link above and see how many of the items you can find around your house! Happy hunting, friends! And of course, don't forget to keep reading!
Week 4 Challenge: Dino-xperiment!
Calling all scientists! Give this week's challenge a try! Details below! And of course, if you haven't already, register for our Virtual Summer Reading Program on Beanstack!
Can you escape a mummy invasion at the A.K. Smiley Public Library? There's only one way to find out! Click here for a virtual archaeological adventure…if you dare! And we hope you have joined in on the fun for our Virtual Summer Reading Program on Beanstack! If not, what are you waiting for? Go for it! Read something wonderful!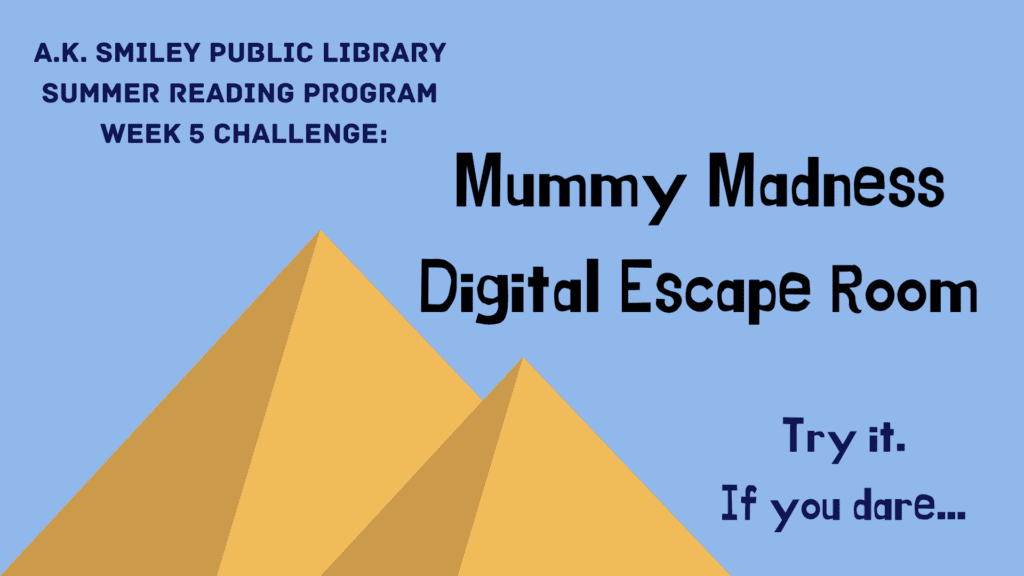 ---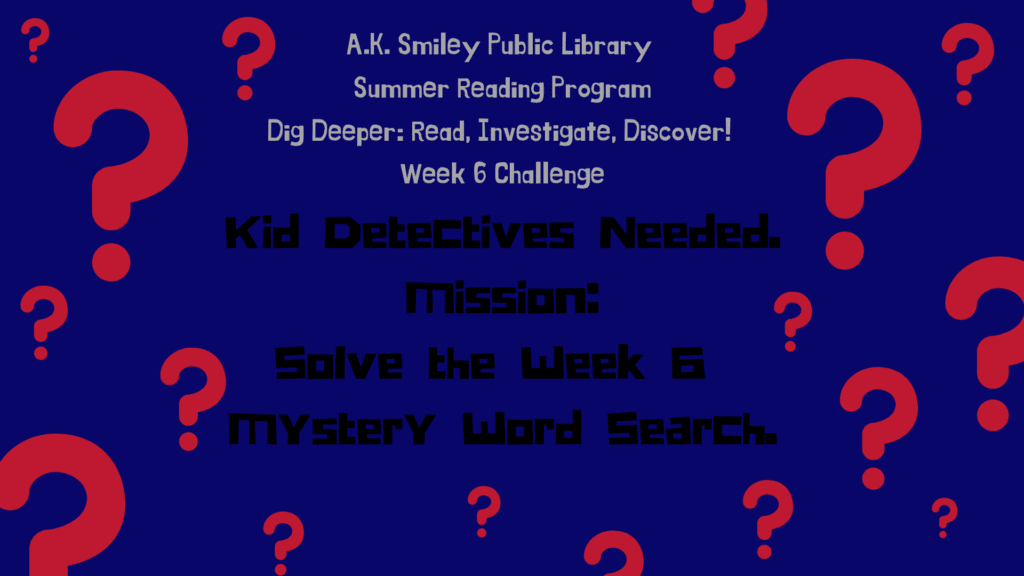 Did you successfully escape last week's mummy invasion? PHEW! Your next mission, should you choose to accept it, is the Week 6 Mystery Word Search! Look below to see if you can find all twenty words! And keep reading! Maybe try a captivating mystery this week! And if you haven't already done so, register for our Dig Deeper Summer Reading Program on Beanstack, where you can track all those minutes you've been reading and earn virtual badges!

Click here for a PDF if you'd like to print the Mystery Word Search!
This week's Dig Deeper Summer Reading Program Challenge will have you reading across genres! Do you know what a genre is? It's a category! So your Week 7 mission is to try to read a little of everything, from as many different genres as you can. Do you usually love fantasy stories filled with dragons and trolls and fairies? Well this week dig deeper and try an action-packed adventure! Or if you typically have your nose buried in a nonfiction book about sharks, this week give a "Who Was…" biography a whirl! Dip your toe into poetry or lose yourself in a historical fiction novel! See how many genres you can read your way through! Happy reading, friends! Click here for the Read Your Way pdf!
Are you a dinosaur expert? A future paleontologist, perhaps? Perfect! This is the crossword puzzle for you! And if you don't know a lot about dinosaurs yet, no problem! The Dig Deeper Summer Reading Program Week 8 Challenge will help you learn! Read the clues and see how many of the answers you can dig up! Click here for a printable PDF version of the puzzle!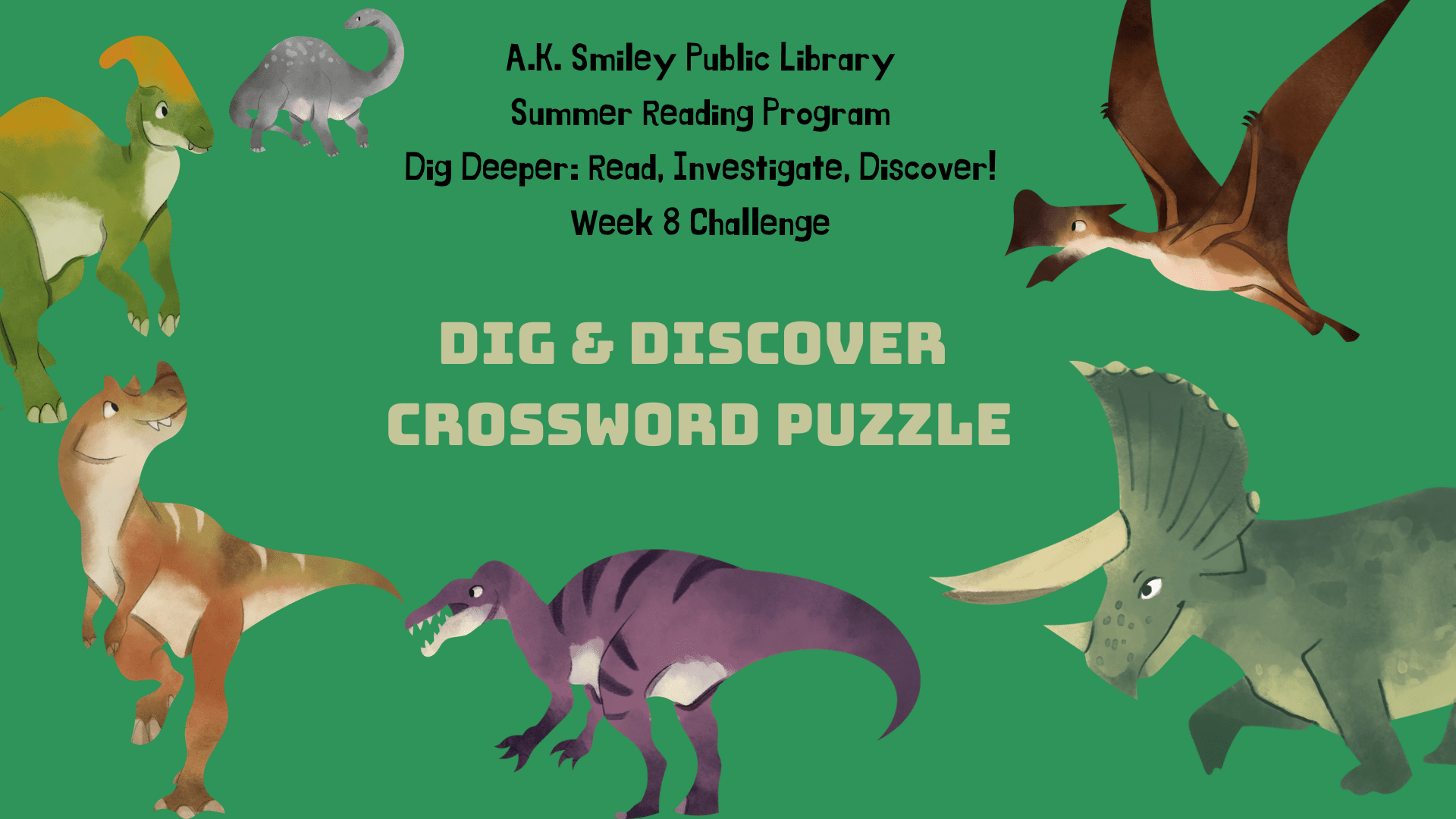 Week 9 Challenge: Dig Deeper Into Your Imagination
For your Week 9 Dig Deeper Summer Reading Program Challenge, we want you to dig deeper into your imagination! Do you have any ideas for a great book? What do you love to read about? Unicorns? Aliens? Alien unicorns? Imagine a story you would love to read, and then design a cover for that book! If your caregiver says it's okay, email us a picture of your drawing at yrr@akspl.org! We can't wait to see what your creative brain comes up with!
Looking for free things to do at home with kids?

From read-alouds to drawing lessons to virtual day trips,  and free films on Kanopy Kids, these links have you covered!
For Parents:
Parent ToolKit  Parent Toolkit is a one-stop resource developed with parents in mind. It's produced by NBC News Learn
Raising Readers  Promote a love of reading with your children…
Reading Rockets Tips for Parents (in multiple languages)
Sesame Street in Communities Discover printables, videos, and more on topics to help families
Culturally Diverse books for parents to share with their children  Here Wee Read is an extensive list of books and subjects for children
Fun Activities & Stuff:
Lunch Doodles with Mo Willems  Draw with Mo Willems, each week!
Drawing with author/illustrator Grace Lin How to draw a Chinese Dragon!
Learn to draw Mercy Watson with Chris Van Dusen! Mercy Watson books written by Kate DiCamillo
Pete the Cat Activities!(interactive videos, singalongs, printable word searches, matching games and more with our groovy hero, Pete the Cat!)
Learn to type with fun! Typing can be fun, when you learn here!
Learn to type here! A fun, interactive way to learn how to type!
Dav Pilkey at home Get creative with Dav Pilkey at home!
Cooking for kids! Join in on Food Network's site for some great fun with food!
Cosmic Kids ~ Mindfulness & Relaxation Yoga, mindfulness and relaxation designed specially for kids aged 3+, used in schools and homes all over the world.  (YouTube)
Crafts for kids  Ready for some crafts to make?  Try this site!
Make and take crafts for kids! Try some of these cool crafts while at home!
12 virtual Disneyland rides for you to experience! (ride 12 of your favorite Disneyland rides, while practicing "Safer @ Home"!)
Ride the Rolex cross-country course with Elisa Wallace  Enjoy riding horses?  Try out this obstacle course riding Simply Priceless during Rolex 2016!
Imagineering in a Box with Khan Academy contains lessons on theme park design w/Disney & Pixar!
Free Magic Workshops for Kids! Every Wednesday & Saturday afternoons. In this single WOW Workshop I'll teach 3 really cool magic tricks with things that you can easily find around the house.  Remember this LIVE workshop is FREE and I only have a limited number of spots available.
Visit the San Diego through these web cams! View some of the animals at the San Diego Zoo, right from your own home!
Yellowstone National Park   You can virtually visit beautiful Yellowstone National Park here!
Diary of a Wimpy Kid activities & puzzles  Downloadables, puzzles & games from The Diary of A Wimpy Kid!
We're Going on a Bear Hunt story…create your own neighborhood bear treasure hunt by having bears in the street facing windows of homes 😍 All kinds of Bears: either art renderings . We are going on a bear hunt 🐻❤️
EDUCATIONAL SITES:
Scholastic Learn at Home For Grades PreK through 6+ (Scholastic)
We Are Teachers (a great resource for teachers and safer at home teachers)
A Mighty Girl  (a fabulous website about girls, for girls & written by girls!)
PBS at home learning PBS SoCal and KCET, in partnership with LAUSD and in collaboration with California PBS stations, are offering broadcast programming and accompanying digital resources that adhere to California's state curriculum to provide continued at-home learning
Writing prompts from authors! Watch these authors read portions from their books and guide you on writing prompts!
EDU Atlas Fun and educational activities for elementary students…log on today!
Sesame Street Fun  Fun and educational activities for preschoolers and elementary age kids!
READING & READ-ALOUDS:
Storyline Online ~ hear some of your favorite stories here!  The SAG-AFTRA Foundation's award-winning children's literacy website, Storyline Online, streams videos featuring celebrated actors reading children's books alongside creatively produced illustrations.  Readers include Viola Davis, Chris Pine, Lily Tomlin, Kevin Costner, Annette Bening, James Earl Jones, Betty White and dozens more. Search this hashtag online and you'll find authors reading their children's books in a series organized by Romper, a website for millennial moms. Catch Dan Gutman reading "Miss Blake Is a Fake!" from his "My Weird School" series, or watch Susie Jaramillo sing-read "Little Sunny Sun- shine" in English and Spanish. Find it: Visit Instagram, Facebook or YouTube and search for #operationstory time.
Read Together Be Together (reading tips, printables, and live picture book readings via Instagram)
#OperationStoryTime ~ Search this hashtag online and you'll find authors reading their children's books in a series organized by Romper, a website for millennial moms. Catch Dan Gutman reading "Miss Blake Is a Fake!" from his "My Weird School" series, or watch Susie Jaramillo sing-read "Little Sunny Sun- shine" in English and Spanish. Find it: Visit Instagram, Facebook or YouTube and search for #operationstory time.
2020 Global Children's Book Club Sign up today and enjoy a global reading experience!
SCIENCE & MATH FUN FOR KIDS:
Science with National Geographic   This is a fun, hands-on site for kids and families to do experiments together!
Code.Org  The nonprofit Code.Org has free computer science classes and activities for students from kindergarten through high school. There are also links to courses for beyond high school, too.
Smart videos for curious minds of all ages Great science videos for kids/teens!
Wonderopolis for kids! Wondering about something?  Check this website to perhaps find the answer!
Science Show for kids Enjoy watching fun and entertaining science stuff!
Science at home with Bill Nye Do some fun experiments at home, learn something new with Bill Nye, the Science Guy!
NASA STEM engagement at home! Science, right in your own home – up to 8th Grade!
Science for kids & teens Watch these science videos & learn something new today!
Math fun with Greg Tang! Greg makes math fun! Try this site today!
California Academy of Sciences Whether you're searching for STEM activities for the kids or just want to keep tabs on your favorite Academy creatures, we've curated an eclectic array of science-centric games, videos, and DIY projects to help you stay learning and engaged, wherever you are
National Ocean Service (NOAA) Kids   Science & fun at the ocean (virtually, of course!)
National Geographic for kids  Learn about fun and interesting topics like animals, heroes homework help and more!
______________________________________________________________________________________________________________________________________
Websites in Spanish for kids
Free Resources for Parents and Educators with Lessons to Keep Kids Reading, Thinking, Growing, and Learning 21st Century Skills Great videos, songs and activities!
Popular fairy tales with Spanish translations, read slowly by a native Spanish speaker  
Estas Triste:  Triste y aburrido, Señor Calavera se pone a buscar algo que lo haga sentir menos solo durante estos dias que tiene que quedarse en casa.
Bored and sad, Señor Calavera looks for something to do that will make him feel less alone, while he needs to stay at home.   (Click the CC for subtitles)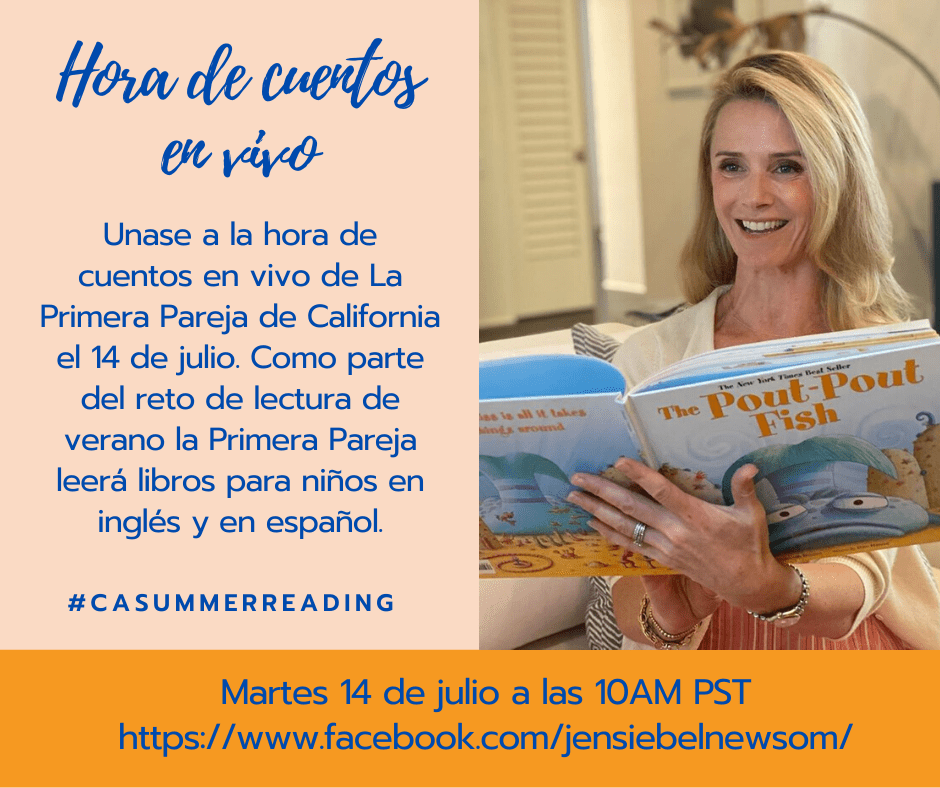 ---
Story Times ~ Postponed through June 30, 2020
Join us for virtual Preschool Story Times LIVE on FB (see link below)
Wednesdays @10:15 A.M.

 
and virtual Baby Story Times LIVE on FB
Thursdays @ 9:30 A.M.!
Young Readers' Room FB page   Log on with your little ones and enjoy storytelling from our wonderful group of readers!
Tuesday Afternoons in the Story Corner

After-School Story Time: K – 5th graders welcome! ~ 3:00 – 3:30 p.m. (includes snack!) POSTPONED
Tuesday Evenings in the Story Corner:
Virtual Pajama Story Time:  all ages ~ 7:00 – 7:30 p.m.

Wednesday Mornings in The Contemporary Club:
Virtual Preschooler Story Time: Ages 4-6 10:15 a.m. – 11:15 a.m. ~ story time + craft to take home

Thursday Mornings in The Contemporary Club:
Baby Story Time  9:30 a.m. – 9:50 a.m.



 
Saturday afternoons in the Story Corner: 
Cuentos en español ~ Spanish Story Time 1:00 – 1:30 p.m.

Special Story Time from First Partner's California Summer Reading Challenge which encourages families to take part in our public library's summer reading program and keep you reading all summer long!