The children's collection of A.K. Smiley Public Library includes:
Books, periodicals, and audio materials for preschool through 8th grade.
Special programs and activities are held for children year round.
Reading Clubs are held throughout the year and feature special themes and rewards to young readers.
All Young Readers' Room Story Times and Events have been postponed through April 30, 2020 
---
Looking for free things to do at home with kids?
From read-alouds to drawing lessons to virtual day trips, these links have you covered!
Lunch Doodles with Mo Willems (YouTube)
Kid Lit Authors Stepping Up During the COVID-19 Crisis and Quarantine (Book Riot)
Scholastic Learn at Home For Grades PreK through 6+ (Scholastic)
Cosmic Kids Yoga (YouTube)
Books read in Spanish with The Spanish Experiment 
We Are Teachers (a great resource for teachers and safer at home teachers)
A Mighty Girl  (a fabulous website about girls, for girls & written by girls!)
Storyline Online (books read by celebrities)
Pete the Cat Activities (interactive videos, singalongs, printable word searches, matching games and more with our groovy hero, Pete the Cat!)
12 Virtual Disneyland Rides (ride 12 of your favorite Disneyland rides, while practicing "Safer @ Home"!)
Magic Show class for kids! (FREE On-Line Magic Workshop for Children 8-12THIS SATURDAY Spots are limited: First come, first serve, and classes are already filling up.  It's this SATURDAY at  11:00am & 1:00pm.
Read Together Be Together (reading tips, printables, and live picture book readings via Instagram)
We're Going on a Bear Hunt story…create your own neighborhood bear treasure hunt by having bears in the street facing windows of homes 😍 All kinds of Bears:  either art renderings .                We are going on a bear hunt 🐻❤️
---
Story Times ~ Postponed through April 30, 2020
Join us for a virtual Preschool Story Time LIVE on FB
Wednesday, 4/1/2020 @10:15 A.M.

 
and a virtual Baby Story Time LIVE on FB
Thursday, 4/2/2020 @ 9:30 A.M.!
Bring your little ones and enjoy storytelling from our wonderful group of readers!
Tuesday Afternoons in the Story Corner

After-School Story Time: K – 5th graders welcome! ~ 3:00 – 3:30 p.m. (includes snack!)
Tuesday Evenings in the Story Corner:
Pajama Story Time:  all ages ~ 7:00 – 7:30 p.m.
Wednesday Mornings in The Contemporary Club:  
Preschoolers: Ages 4-6 10:15 a.m. – 11:15 a.m. ~ story time + craft to take home
Thursday Mornings in The Contemporary Club

Baby Story Time  9:30 a.m. – 9:50 a.m.

Tiny Tots: Ages 2-3, 10:15 a.m. – 10:30 a.m.; 10:40 a.m. – 10:55 a.m.
Saturday afternoons in the Story Corner: 
Spanish Story Time 1:00 – 1:30 p.m. with Mr. Aguirre (every other Saturday)
---
Fitness for Kids with "My Gym" ~ Postponed through April 30, 2020

           Every Thursday afternoon from 3:30 – 4:15 in The Contemporary Club
                      All ages welcome to attend this fast-paced, interactive class!
___________________________________________________________________________________________________________________________________
Therapy Dog friends Daisy; Dominic & Lord Devereaux ~ Postponed through April 30

Come and read to our Therapy Dog friends in the Story Corner of the Young Readers' Room.
We look forward to having your kids read a great book to our friends!
---
---
Try some cool mapping at this website, created for the library by Esri:
http://smileylibrary.maps.arcgis.com/home/index.html
Have fun with it…where will be your first destination to look up?  Locally; in the state; country?  How about someplace in the world?!
---
Saturday Craft Day ~ Postponed through April 30, 2020
April 25, 2020
"April Showers Bring May Flowers"
Join us for a fun-filled morning of crafting, stamping and making new friends in the Assembly Room.  Join Miss Didi and her helpers as they help you make and create great crafts for you to take home.
---
17th Annual Family Day 2020
Saturday, October 10
9:00 a.m. – 1:00 p.m.
We will have lots of activities for families to participate in together, to celebrate The Young Readers' Room 100th Birthday!!
We're looking forward to seeing everyone on Saturday, October 10!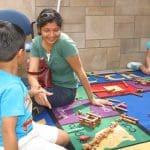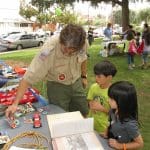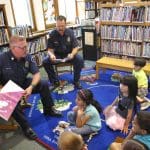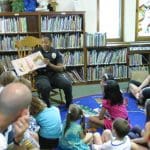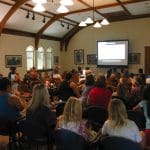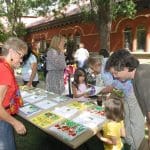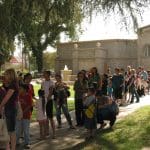 ---
For more information, call Children's Services at 798-7674
Visit us on Facebook.
______________________________________________________________________________________________________________________________________
    TEENS:  Check out our Rosen Teen Health & Wellness site
Rosen is featuring "a unique tool to share and publish their experiences during this time, and to find strength and hope in one another's stories. Sharing challenges confronted and overcome is more than empowering; it's a way to say, "You are not alone."  Share your stories with other teens around the world during this Pandemic of 2020.