Division of Special Collections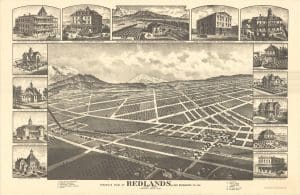 The Special Collections division is as diverse as the history of California itself and seeks to serve a variety of interests: Researchers, Students, Writers & the Casual Visitor. The primary collections focus upon themes, events, and individuals who contributed to the ongoing history of Redlands and Southern California. In addition to California-related collections, the division also stewards the Abraham Lincoln and Civil War collections of the Lincoln Memorial Shrine.
Learn about volunteer and internship opportunities.
Visit the Heritage Room
While walk-in researchers are welcomed, appointments are encouraged. When making an appointment, please provide information about your research topic and list titles you are interested in accessing from the Library's catalog. Please remember that pens are not allowed.
You can also make donations to the Archives, Museum of Redlands, and Lincoln Memorial Shrine. Contact Special Collections staff for further information.
Appointments are available during our hours of operation: Tuesday-Saturday 10am-12pm & 1-5pm. To schedule an appointment, please submit a request on our online portal, call (909)798-7632, or email heritage@akspl.org. Appointments are only finalized when confirmed by Special Collections staff.
Hours of Operation

Tuesday         10am – 5pm
Wednesday    10am – 5pm
Thursday        10am – 5pm
Friday             10am – 5pm
Saturday         10am – 5pm – Closed 10am-1pm on Saturday, October 7th

Closed 12pm – 1pm each day
For information: (909)798-7632 or heritage@akspl.org
Redlands Community History Initiative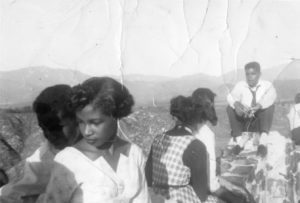 The Redlands Community History Initiative seeks to learn about and preserve the stories of the many communities that made Redlands the city it is today, especially those traditionally left out of the conversation.
Redlands has always been a diverse community. People from all walks of life with varied cultural and ethnic backgrounds made their way to Redlands and the East San Bernardino Valley to set down roots, contributing to the area's growth and prosperity. From the citrus and dairy industries; to service in homes and businesses; and centers of community – everything from churches to barber shops, all Redlanders left their mark on the city.
The stories of beloved historical figures like Israel Beal, who was born into slavery and made his way west after the Civil War; José Rivera, the city's first law enforcement officer; and Lulu Nash, a popular housekeeper and caterer, have been well-documented, but what of the thousands of others who called Redlands home? What were their names? Why did they choose Redlands?
You can contribute to the Redlands Community History Initiative by sharing photos, letters, diaries, receipts, artifacts, and oral histories, all of which add to the understanding of the many people who built and sustained Redlands over the years. Whatever was important to you and your family is important for history!
Sharing is easy! You can upload images of photographs and other materials directly to the online submission portal, by email to heritage@akspl.org, or in person with an appointment. Contact the Heritage Room at (909)798-7632 to learn how the Library can help you preserve your family's legacy in the Redlands area.
Celebrate Earth Day
With its tree-lined vistas and beautiful public spaces, Redlands has been recognized for its commitment to greenery since its earliest years. From its parks and emphasis on trees, flowers, and plants, to the work of community organizations focused on the environment, Redlands was once known as "the radiant garden spot of California"!
Celebrate Redlands' dedication to its environment in new online exhibitions focusing on Redlands Parks and Arbor Day.
Learn more about how you can contribute to beautifying Redlands through the work of organizations like the Redlands Horticultural and Improvement Society, Redlands Conservancy, Arbor Day Foundation, and many more!
Webinar Series
Did you participate in the Special Collections webinar series? Presented by Smiley Library staff and a few special guests, webinars focused on topics related to the treasures of the Special Collections Division, including the histories of Redlands, California, Abraham Lincoln, and the Civil War. Check out a list of past webinars or watch them on the Special Collections YouTube Channel.
Resilient Redlands: COVID-19 and Our Town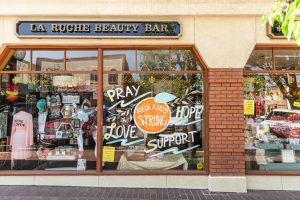 A.K. Smiley Public Library has embarked on a project to document life in Redlands during the pandemic and beyond. Led by the Library's Division of Special Collections, "Resilient Redlands: COVID-19 and Our Town" reaches out to the community to collect the experiences that define the shared experience of living through a global crisis.
We want to know how the pandemic affected your life. The Redlands community is invited to share their experiences through photographs, stories, poetry, works of art, or anything that can be shared electronically that documents life in the era of COVID-19. Submissions will become part of the Library's COVID-19 remembrance collection.
Share your experiences through the new "Resilient Redlands" portal that allows you to upload photographs and documents, and answer a few questions about adjusting to life in this time of uncertainty. If email is your preference, please send these items to the Heritage Room at heritage@akspl.org. Submit your memories here. In person donations are accepted by appointment. Please call (909)798-7632 for more information.

Archives
Established in 1972, the Archives of A.K. Smiley Public Library strives to collect, preserve, and make available historical materials relating to Redlands, San Bernardino County, Southern California, and the West. So, whether you are new in town or a lifelong resident, the Archives offers a variety of ways to explore Redlands.
Explore our Collections…
Books
California Collection, Rare Books, and Autograph Collection
The California Collection covers a wide range of subjects dealing with the history of Redlands, San Bernardino County, California, and the West. There are separate collections which house rare books and autograph books.
Carnegie Indian Collection
This collection began in 1910 by a gift from industrialist and philanthropist Andrew Carnegie to honor his friend Albert K. Smiley. It includes rare and selected volumes primarily on the Native American tribes of California and the Southwest.
California Pamphlets & Periodicals
The substantial pamphlet and ephemera collection contains catalogued items relating to Redlands, San Bernardino County, and California. The material ranges from the 1860s to the present.
Early California magazines, including Out West  and Land of Sunshine, are available alongside contemporary publications and historical society quarterlies.
Dating from as early as the 1850s to recent topographic maps, the map collection focuses on California, San Bernardino, and the Redlands area.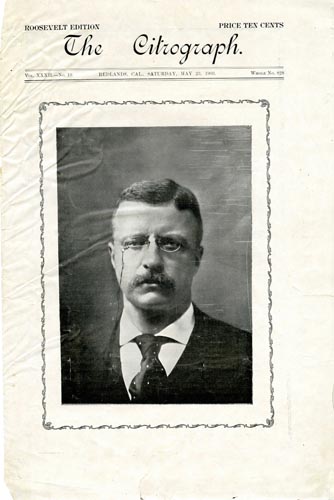 The newspaper collection is one of the largest of local and regional newspapers in Southern California.
Local newspapers include:
The Citrograph, Redlands's earliest newspaper, has been indexed from 1887-1896
Redlands's long-running newspaper, the Redlands Daily Facts has served the community since 1890
The Redlands Daily Review began in 1901 and merged with the Facts in 1919
The Colored Citizen served Redlands's African American community between 1905 and 1906
El Amigo del Hogar focused on Redlands's Spanish-speaking community at the turn of the century
Search the Special Collections catalog for additional titles.
Manuscripts
The California manuscript collection consists of thousands of pieces written by significant historical figures. Subjects include Redlands and San Bernardino County, as well as Southern California deserts, mountains, water development, and citrus.
Oral Histories
Over 100 oral histories of individual community members  document their lives and experiences. Researchers utilize both audio and transcripts to add another dimension to understanding Redlands history. Two major oral history projects are "Citrus & Service" and "Citrus, Labor, and Community in East San Bernardino Valley."
Photographs
Whether you are curious about how Redlands looked in the past or would like to relive the city as you remember it, the photograph collection has thousand of images that show the city throughout its long history.
The collection affords researchers a variety of subjects, relating to the history and development of Redlands, as well as the rest of California.
While these items are not available online, you can always make an appointment to access the collection in the Heritage Room.
Citrus Collection
The expansive citrus collection tracks the rise of the citrus industry in California and its role in the  development of Redlands as a major citrus center. The collection includes citrus labels, financial journals, growers' records, and much more.
Art Collection
The extensive art collection of the A.K. Smiley Public Library includes original works depicting scenes of Redlands, California, and the desert. Collection highlights include works by local artists Worden Bethell, Jean Cranmer, and Hazel Olsen.
#CLIR Water Project
A.K. Smiley Public Library is part of the Digitizing Southern California Water Resources Project, a 3-year collaborative digitization project funded by the Andrew W. Mellon Foundation and administered through the Council on Library and Information Resources (CLIR).
The collaboration forms a regional network of Southern California private and public institutions that demonstrates our commitment to leveraging our individual strengths (collections, subject knowledge, and professional expertise) and technical infrastructures towards the open proliferation of water heritage collections. See Smiley Library's contributions to the project here.
Major Collections Include…
A.K. Smiley Family Collection
City of Redlands Collection
Gerald A. Smith Indian Collection
Nordhoff – Morrison – Stillman Collection
Citrus Industry Collection
Watchorn Family Collection

The former Redlands Daily Facts building is the future home of the Museum of Redlands
The Redlands Historical Museum Association and the Division of Special Collections of A.K. Smiley Public Library work to collect, catalog, and preserve items related to the history of Redlands. Please contact the Heritage Room at (909)798-7632 for information on how you can contribute. Arrangements can be made for pick-up of donations.
Visit the Museum of Redlands website.