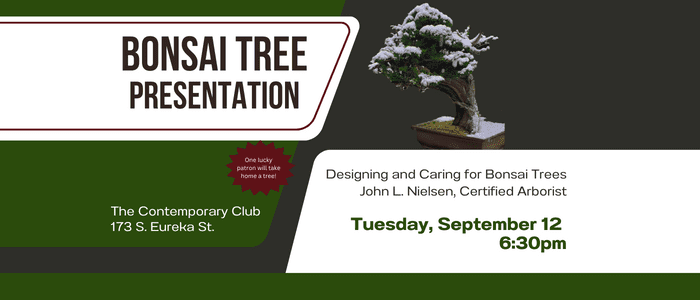 Tuesday, September 12 | 6:30pm
Contemporary Club
John L. Nielsen, Certified Arborist will present a program on designing and caring for bonsai trees, beautiful live miniature trees in containers.
"Bonsai trees provide the natural beauty our souls need in the home garden just like larger trees. Bonsai trees do the same things on a smaller scale."
John has 25 years of experience as a tree care professional in southern California. He is a Certified Arborist with the International Society of Arboriculture. In addition to working on full-sized trees in landscapes, John has enjoyed his hobby of bonsai tree cultivation and care for over forty years.
"The peace a graceful garden full of miniature trees provides is priceless. After many years of caring for trees, you know them well, like children. They become a part of your family!"
Bonsai tree cultivation provides gardeners with a very creative way to enjoy gardening on a smaller scale than they might be used to. Bonsai care involves working with a tree to discover the possibilities the tree holds, and then developing it into a lovely specimen. Bonsai cultivation began in China and then migrated to Japan many years ago.
John will demonstrate basic bonsai techniques as he creates a bonsai starter tree at this presentation. He will also talk about soil, watering, and general care. Bring your bonsai tree care questions too, as John will be glad to answer them during our q and a.  One lucky patron will take home a tree!