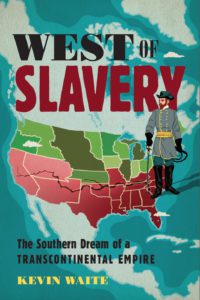 Ever wonder how California and the western United States fit into the story of the Civil War? Find out on Tuesday, May 2 as the Lincoln Memorial Shrine presents West of Slavery: The Southern Dream of a Transcontinental Empire at 7pm in the Assembly Room of A.K. Smiley Public Library and on Zoom (passcode 666609). Presented by Kevin Waite, the program will demonstrate that contrary to popular belief, the struggle over slavery played out on a transcontinental stage. Copies of West of Slavery will be available to purchase.
Based on Waite's book, West of Slavery reveals how Southern slaveholders infiltrated the American West in the antebellum period and triggered a series of conflicts that culminated in the Civil War. From slave codes passed in Utah and New Mexico, separatist movements sponsored in Southern California and Arizona, an orchestrated territorial purchase from Mexico, and even the murder of antislavery rivals, their efforts transformed California and the Far Southwest into a political appendage of the plantation states.
Kevin Waite is an associate professor of history at Durham University and the author of West of Slavery: The Southern Dream of a Transcontinental Empire (UNC, 2021). West of Slavery has accolades from organizations across the country and was named one of the "11 books that shaped how we think about California," by Boom: A Journal of California and one of the "Five Best Books" ever written on the Civil War in the Far West by the Civil War Monitor.
This program is free and open to the public. Use passcode 666609 when watching on Zoom. A.K. Smiley Public Library is located at 125 W. Vine Street in Redlands. For more information, contact the Heritage Room at (909)798-7632.