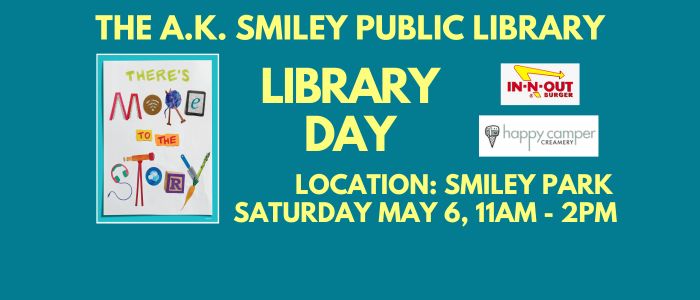 Library Day 2023: There's More to the Story
Saturday May 6, 11AM- 2PM
In Smiley Park
FREE!
Library Day is a celebration of the A.K. Smiley Public Library and our community and patrons!  This event will feature free food and ice cream for the first 500 attendees, and fun live music provided by "The Marvels" band.  Family Friendly and outdoor in Smiley Park.  The first 125 guests will receive a complimentary book, "The Library Book," by Susan Orlean, courtesy of the Friends of the Library.
Our theme is: "There's More to the Story."  Libraries are full of stories in a variety of formats from picture books to large print, audiobooks to ebooks, and more. But there's so much more to the story. Library programming brings communities together for entertainment, education, and connection through book clubs, storytimes, movie nights, crafting classes, and lectures. Library infrastructure advances communities, providing internet and technology access, literacy skills, and support for businesses, job seekers, and entrepreneurs.
Come celebrate your favorite local library and all the ways it enriches our community, at this free, fun, family event!
Library Day at a glance
10 am – 10:45am
125 Years of Smiley Library
Assembly Room
11am – 2pm
Virtual Reality Experience
Assembly Room
11am – 2pm
Face Painting, Games, a Magician, & more
Smiley Park
11:30Am
In-N-Out Burger
Happy Camper Creamery Gelato
In Smiley Park while supplies last
12Pm-2pm
"The Marvels" Live Music
Smiley Park