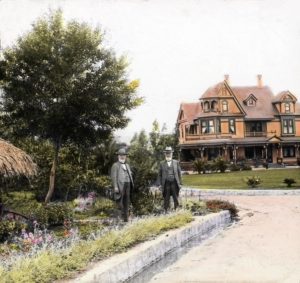 At A.K. Smiley Public Library, March 17 means more than St. Patrick's Day- it's Patron Saints' Day, the birthday of Redlands's best-known benefactors, Albert and Alfred Smiley!
Born in Maine in 1828, identical twins Albert and Alfred were successful educators before embarking upon careers as resort owners in New York state in the decades that followed the Civil War. Discovering Redlands in 1889, the pair went on to create a public botanical oasis known as Canyon Crest Park in the hills southwest of Redlands and were involved in many philanthropic projects in the city. Their immeasurable impact is best exemplified by A.K. Smiley Public Library, which is named for Albert, but would not have been possible without the contributions of both brothers.
Now, on their 195th birthday, Director Emeritus Larry Burgess and Archivist Nathan Gonzales honor the Smileys and their gifts to the city with a special Patron Saints' Day presentation on Friday, March 17 at 2pm in the Contemporary Club or on Zoom.
This event is free and open to the public. The Contemporary Club is located at 173 S. Eureka Street. If you have any questions, please contact the Heritage Room at (909)798-7632.