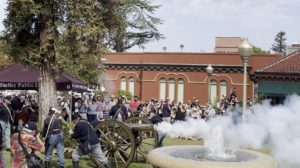 Back by popular demand! The Lincoln Memorial Shrine's reproduction cannon will be fired on Saturday, August 26 at 10am in Smiley Park, between the Shrine and A.K. Smiley Public Library.
Manufactured by Trail Rock Ordnance of Tennessee and donated by the Nies family, the reproduction Model 1857 Napoleon 12-pounder field gun was dedicated in August, 2021. Overseen by the 1st Pennsylvania Light Artillery, the inaugural firing demonstration took place in Smiley Park with over 150 spectators in attendance and a similar event last summer also brought out a large crowd.
On display in the park throughout the year, the cannon will once again be fired at this year's celebratory program, which will include a brief introduction to the use of artillery during the Civil War by members of the 1st Pennsylvania Light Artillery, music by the Camp Carleton Cornet Band, and an appearance by President Abraham Lincoln presenter Robert Broski.
This event is free and open to the public. Attendees are encouraged to bring lawn chairs and/or blankets. Large umbrellas are discouraged.
The Lincoln Memorial Shrine is located at the A.K. Smiley Public Library campus, 125 W. Vine Street, Redlands. For more information, call the Heritage Room at (909)798-7632 or visit www.lincolnshrine.org.