Sculptor Linda Pew's bust of Gerow Smiley, posed in the Young Readers Room which Gerow's grandfather Daniel Smiley made possible in 1920. The pansy was the favorite flower of the Smiley brothers.
Gerow Smiley, grandnephew of Smiley Library founders Albert and Alfred Smiley, and grandson of their half-brother Daniel Smiley, benefactor of the Smiley Library's Young Readers Room, passed away on Sunday morning in Redlands. He was 98.
To say that Gerow lived a full life would be an understatement. Born in 1922, Gerow grew up at his family's Mohonk Lake Mountain House resort in the Shawangunk Mountains near New Paltz,
New York where grandfather Daniel was in charge. Gerow attended Haverford College for two years in the late 1930s but felt the urge to explore new horizons out west. He worked on ranches in Wyoming and Arizona where he became an accomplished horseman.
Despite having an agricultural worker deferment, Gerow volunteered to enlist in the United States Navy in World War II and served as a pharmacist's mate. Before enlisting, Gerow married former Mohonk colleague Marion Bonnell in 1943 and began a family that would eventually comprise three sons, Paul, Kip and David.
Following the war, Gerow returned to ranching but found time to also compete as a rodeo bronco rider and won several competitions before a broken leg convinced him to pursue other paths.
After finishing his undergraduate work, Gerow earned a doctorate in veterinary medicine from Colorado State University in 1951. He returned to Mohonk Lake where he cared for the family's horses and cattle in addition to serving as the resort's director of personnel.
In 1955 Gerow moved away from Mohonk, first to Florida, then Wyoming and later to Petaluma California, practicing large animal veterinary medicine for 25 years. Back trouble from a lifetime of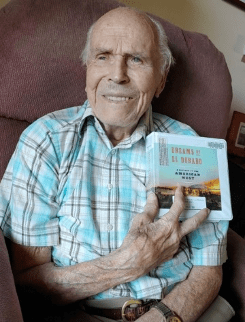 manipulating equine and bovine patients eventually took a toll. In the 1980s he returned to Mohonk Lake supervising maintenance at the expansive property. Among other accomplishments he invented a composting system using manure and garbage that was ahead of its time.
Beginning in 1991, Gerow followed in the footsteps of his grandfather Daniel by spending his winters in Redlands. He made many friends in his winter home, attending numerous events at the
Smiley library and the Congregational Church. In 2012, he moved to Redlands full-time. He volunteered at the Redlands Community Hospital and with the library's adult literacy program, helping new English learners improve their conversational English. Asked to choose a favorite book and how it influenced his life for the latter program, he named Steven Ambrose's Undaunted Courage, an account of the Lewis and Clark expedition. "It is an amazing account of vision, courage, inventive skill and ability to overcome all obstacles. An inspiration for the youth of today." Former library management analyst Janice Jones and I enjoyed taking him out for lunch occasionally and we were always impressed by his inquisitive mind, wide range of knowledge and hearty appetite. This past summer, he was very concerned by the city's cuts to the library's budget and relieved when the community stepped up to minimize the impact.
Always a voracious reader, Gerow became a frequent borrower of the library's audiobooks when his eyes began to fail him. I'm grateful I had the opportunity to drop off several at his home earlier this month and see him (appropriately socially distanced) for what turned out to be the last time.
The Smiley community is a lesser place without him.
Don McCue
In 2010 Gerow wrote a memoir which was invaluable in composing this brief account of a unique man. He concluded it with a favorite poem.
Death is Nothing at All
I have only slipped away into the next room;
I am I and you are you;
Whatever we were to each other
That we are still.
Call me by the old familiar name,
Speak of me in the easy way
which you always used.
Put no difference into your tone
Wear no forced air of solemnity or sorrow
Laugh as we always laughed
At the jokes that we enjoyed together.
Play, smile; think of me; pray for me;
Let my name be ever the household word
That it always was;
Let it be spoken without an effort;
Without the ghost of a shadow up on it.
Life means all that it ever meant;
It is the same as it ever was;
There is absolute and unbroken continuity.
Why should I be out of mind, being out of sight?
I am but waiting for you – for an interval,
Somewhere very near –
Just around the corner.
All is well.
By H. G. Holland