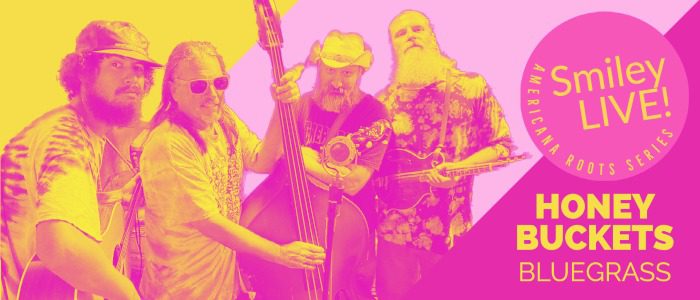 Smiley LIVE! Americana Roots Series: Honey Buckets
WEDNESDAY, APRIL 26, 2023 AT 6:30 PM
At the Contemporary Club 173 S Eureka St, Redlands, CA 92373
This free public event is part of the Smiley LIVE! free concert series.  It's family-friendly, with a Q&A segment where young and old alike can ask the performers questions about their music, their performance, and anything else they may be curious about.
Honey Buckets are a dynamic four-piece, single-mic bluegrass band from Rancho Cucamonga, California.  Raised on heavy metal and smog, Honey Buckets are turning folks on to the bluegrass sound with their high-energy, single-mic performances mixing traditional bluegrass standards, original songs and popular covers.  Starting from backyard parties and local venues, they've gone on to play festivals such as Huck Finn Jubilee and Prescott Bluegrass Festival.  Honey Buckets' newly released debut album is available on all streaming services. Honey Buckets are Mike Stern on banjo, Devin Wilcox on mandolin, Forest Thurman on guitar and Brian Dragoman on bass, with everyone contributing to lead and harmony vocals.
Smiley LIVE! is a series of monthly free concerts featuring a variety of musical genres sponsored by the A.K. Smiley Public Library. The Contemporary Club is located at 173 S. Eureka Street, behind the Lincoln Memorial Shrine, just south of the Library and Smiley Park.