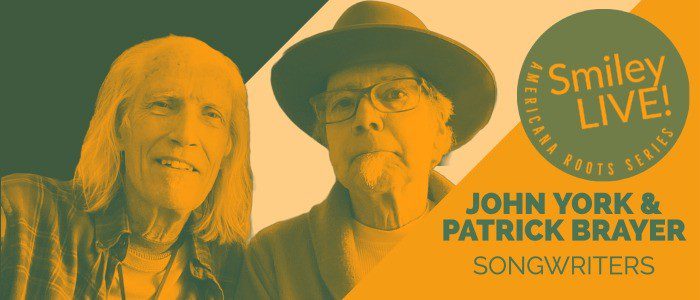 WEDNESDAY, MAY 24, 2023 AT 6:30 PM
At the Contemporary Club 173 S Eureka St, Redlands, CA 92373
Please join us for a special night of music to celebrate Patrick Brayer's record release of 'Cabbage and Kings' – An Inland Empire Anthology from Shrimper Records. He will be joined by John York, as they trade off songs in a songwriter showcase, and explore the high art of song crafting.
John York's vocal and instrumental talents have kept him in the company of such musical luminaries as Roger McGuinn, Gene Clark, Clarence White, Nicky Hopkins, Mac Rebenack (Dr. John,) Doug Sahm (The Sir Douglas Quintet,) The Mamas and Papas, Johnny Rivers, Lightnin' Hopkins, Rick Danko and Richard Manuel (The Band)……and many others.
Continuing in the Byrds tradition, John York sings with a rich emotional voice and favors the 12 string guitar. His music is strongly rooted in America.
In our stepping back to gain a better view, Patrick Brayer has seemed to have spent as much time shadow boxing his way in diversion from fame, as he has chiseling any day to day placement for himself in the present day annals of contemporary songsmithing. Brayer's associations, collaborations, and influence upon such historically embedded artists as, Alison Krauss, Alan Jackson, Ben Harper, Stuart Duncan, Chris Darrow, Darol Anger, Atreyu, John York, and Michael Hedges are tales well documented and that can't be denied without equal creativity. But that is just the mere residue of a life's work, it is not the work itself. On this current site we hope to educate an audience to the inner workings of a craftsman, a master of lo-fi composition, and a talent that welled up from the life of one who was raised up from a hard scrabble existence by simple people of both West Virginian, and Slovene origins.
Settling in the steelmill town of Fontana California in the year of 1958, Brayer's earliest memories are of his egg ranch surroundings, the dirt parking lot honky tonks, and the African American drill teams of the Northern Fontana foothills. Brayer wrote its dank history on a series of Gibson Hummingbirds, Martin D41's, and Gretsch Rancher guitars like no other Fontanan before him, not Sammy Hagar, not Joseph Wambaugh, nor Shelton Brooks. He came of age romanticizing the 'depression-like Icarus falling' of the Kaiser Steelmill.
http://johnyorkmusic.com/
https://www.youtube.com/watch?v=y911X1xcCuU
http://patrickbrayer.com/
https://patrickbrayer.bandcamp.com