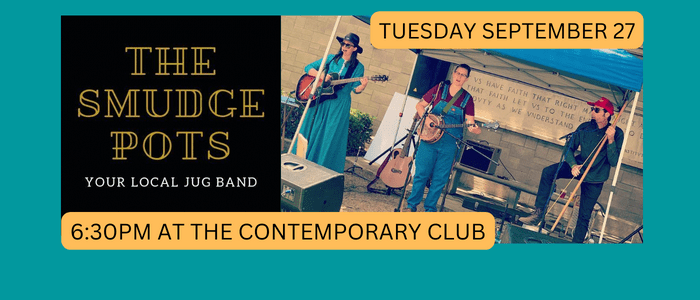 Join us at the Contemporary Club at 6:30 PM on Tuesday, September 27 when Smiley LIVE! presents in concert Redlands premier Jug band, The Smudge Pots.
What is a Jug band you may ask?  It's a name that goes back to the 1890s, with early jug bands being made up of Black vaudeville or medicine show performers. Many of them played on the street, collecting coins from passer-by.  "Jug Band" comes from the early practice of building a band around a jug player or players playing glass or earthen-ware jugs that had a variety of tones like tubas or trombones.  Besides the jugs, there would be a mix of conventional and homemade instruments like the washtub bass, washboard, bones, stovepipe, mouth harp, spoons, and homemade kazoo made of a comb and tissue paper.  The music was chiefly blues or folk music, and was upbeat, danceable, and fun!
Our local jug band, The Smudge Pots (named after the oil pots that were lit to warm the citrus orchards during a frost) began with Darcie Rickert's original songs and a blend of covers ranging from the little known to fan favorites immortalized in film and screen. She started performing with Clayton Detwiler (on washboard) in 2011 in various formations, and over the years, the band has continued developing its homespun sound, inspired by early American country, bluegrass, and jug music.
Joining Darcie's bold and lyrical vocals, banjo and guitar are original member Clayton Detwiler on washboard, Marianne Farretta on washbucket bass, and Dylan Olds bringing his Americana roots to lead guitar.
Smiley LIVE! is a series of monthly free concerts featuring a variety of musical genres sponsored by AK Smiley Public Library. The Contemporary Club is located at 173 S. Eureka Street, adjacent to the Lincoln Memorial Shrine and just south of the Library.  For further information please call 909-798-7565.