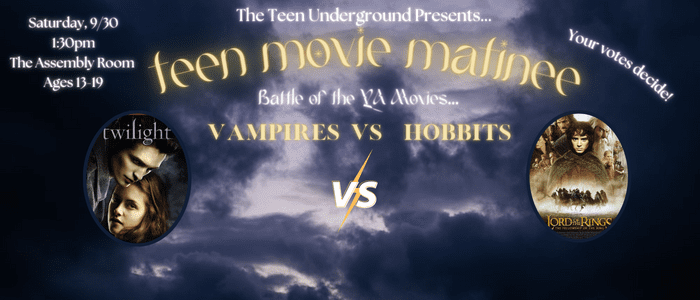 Battle of the YA Movies: Vampires vs. Hobbits

Vampires or hobbits? TEENS DECIDE! We'll play whichever movie earns the most votes.
BREAKING NEWS! This event will also include trivia and costumes, so be sure to come dressed like your favorite character or in your spiffiest super-fan outfit. Are you Team Jacob, Team Edward, or Team Gollum? Let your attire (and your vote) reveal the answer!

The contenders:
"Twilight" – (rated PG-13) 2 hr 2 min (Vampires…obviously!)
"The Lord of the Rings!" – (rated PG-13) 2 hr 58 min (Hobbits!)

Saturday, September 30, 2023
1:30 p.m.
The Assembly Room at A.K. Smiley Public Library

125 W. Vine St., Redlands
Ages 13-19
And of course, we'll have snacks. 🙂
FREE!
Click the link below to register and vote:
We can't wait to see what you decide. We'll email and let you know the winning movie on September 29!