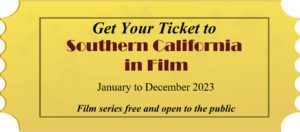 A.K. Smiley Public Library's "Southern California in Film" series returns with a new roster of movies! In recognition of Southern California's contributions to cinema, this free film series is dedicated to celebrating the region's undeniable contribution to the entertainment industry. Join us for the following screenings:
JANUARY 21
Palm Springs Weekend (1963) – Not Rated
FEBRUARY 18
Love & Basketball (2000) – Rated PG
MARCH 18
The Rocketeer (1991) – Rated PG
APRIL 15
Clueless (1995) – Rated PG-13
MAY 13
Beach Party (1963) – Not Rated
JUNE 17
Zoot Suit (1981) – Rated R
SEPTEMBER 16
Double Indemnity (1944) – Not Rated – Register Now!
OCTOBER 21
Ed Wood (1994) – Rated R
NOVEMBER 18
Chinatown (1974) – Rated R
DECEMBER 16
La La Land (2016) – Rated PG-13
Films will be screened at 2pm in the Contemporary Club. Screenings are free and open to the public. Registration will open one week prior to screening date. Registration is requested, but not required. Not all films are suitable for all audiences.
No admission is charged for screenings, thanks to the generous contributions of donors to the Library. Please note that the schedule is subject to change.  For more information or for schedule updates, call (909) 798-7632 or visit the event page.